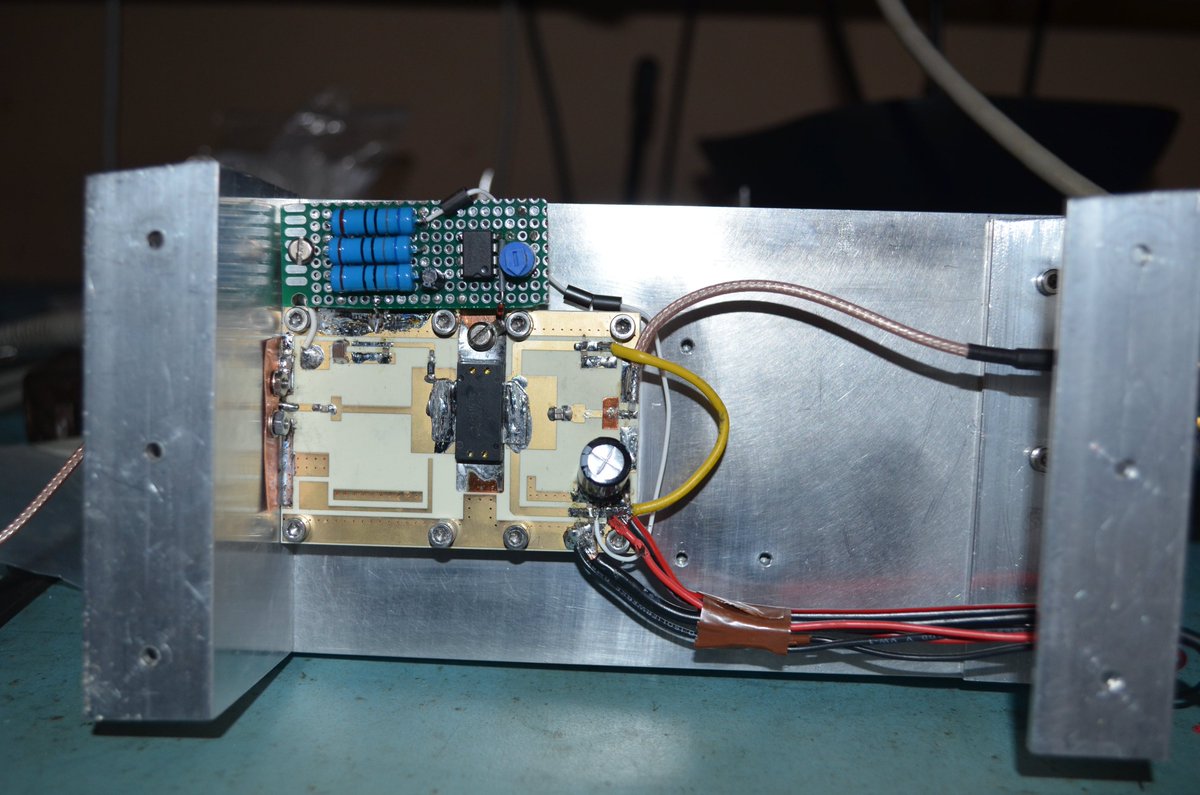 There has been some interest in the 2.4 GHz PA I built for QO100.
At the time I could not find anyone to supply a PCB using the correct
material so I used RO4350B instead. My first attempt didn't work
very well, this turned out to be due to inadequate grounding.
After a re-build I got closer to the expected results.
The amplifier has a gain before saturation of about 14.7 dB which
matches the data sheet but I have been unable to achieve more than
130 watts CW output well below the device limit of 250 watts.
I have also had to modify the output match slightly to get that amount.
So while it produces enough power for my requirements it
no where near meets the specification.
The hot spot in the middle is an electrolytic capacitor on the drain supply
and is hot because when these pictures were taken the amplifier was
suffering from low frequency oscillation. This has now been fixed by
adding extra decoupling to the bias supply and moving some wires about.
The output coax is temporary as I don't have anything suitable in stock.
Originally I had a 200 watt circulator in the amplifier.
I removed the circulator to see if that was the problem. It wasn't.
I have since learned that it is possible to purchase the original PCBs
made by the same company that NXP use. Useful information but a
bit late for me.
AMSAT-DL use an amplifier built by Achim DH2VA using an
MRF24300N which was built using a board from www.mtlpcb.com
and worked first time and to spec.
For anyone wanting a high power amplifier for this band it looks like
Ampleon do a suitable pallet amplifier. They do two version one which
only requires a few milliwatts and another than requires about 4 watts drive.
Currently only the 4 watt version BPC2425M9X250Z is available from stock.